The Month of April
April is blowing out with gusts of wind and rain and rumours of snow! The Magnolias are breaking into bloom, though, and so are the other flowering trees, while Daffodils and early Spring blossoms give a much awaited burst of fresh colour. Birdsong can be heard early morning and evening as melodious chorus. Here in Peterborough we had a hint of summer warmth for a week with temperatures in the 20's.
April was a most memorable and exciting month. I celebrated a first Easter with my new partner, Graham. I introduced him to the abundance at the St. Lawrence Market, Toronto where we bought delicious cheeses, paté's and olives and selected some super fresh fish and steak. Everything is so tempting! I had wonderful memories flood my senses after a long absence of COVID years. Our parking ended up FREE because of a power outage – that was a good omen I think.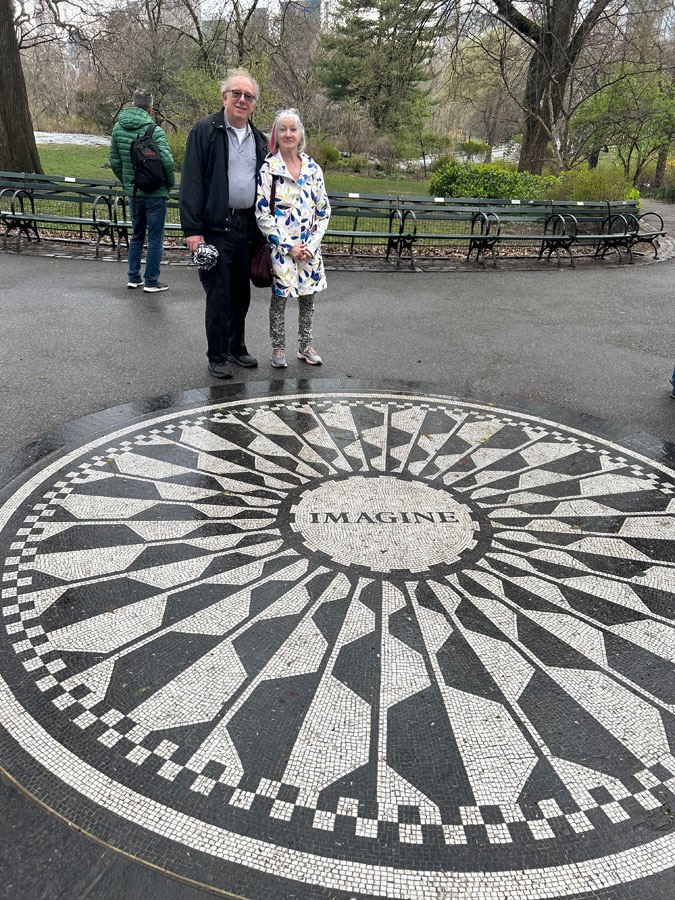 Art Expo
The absolute over the top event was ArtExpo New York March 30 – April 2. I booked Porter airlines for Graham and I. It was such a delight to experience a smooth embarkation from parking to boarding the plane. An easy park and short walk to the terminal, no long check in or security lines. All very civilized. We met a young woman flying to NY for business who shepherded us through all the confusion of taking a train into Penn Station – what an angel we were blessed with! Our hotel, The Ameritania, was perfect – right off Broadway at the beginning of Times Square. A spacious room with a walk in  shower, friendly and helpful staff. We'd use it again.
Thursday was the opening night and next year I'll plan on going down a day ahead because by the time we arrived there was only an hour left. However – what a New York display of people dressed to impress. There was a very elegant woman all in sequins wearing a crown for one example. The art displayed was amazing, varied and abundant. Artavita, the gallery who represented me, did an excellent job of setting up a gallery within the Expo.
This being our first time in New York, we spent Friday and Saturday exploring. We did a hop on hop off day Friday and stopped at various points throughout Manhatten. My favorite was the Highline Park, a re-designed abandoned railway line into a wonderful promenade through the old industrial/shipping yards.
Saturday morning we enjoyed a New York brunch with some friends before heading over to Central Park. Trees were in bloom, Daffodils carpeted= the lawns, people were jogging. A very    playing Beatles tunes.
A small taste of what New York has to offer but an unforgettable first time experience! I look forward to the next trip, maybe I'll have time to actually visit some galleries and museums. It simply felt like we needed to experience the outside, pedestrian New York instead of inside buildings.
New Pieces
I worked on and completed 3 pieces to submit to Melt Gallery's Spring opening show  "Renewal" in Piction, May 7. Owned by a good friend Susan Wallis, I look forward to renewing  our connections. More later, but I do have a solo show there in November.
Meet Sassy
My last unexpected, kind of spontaneous action was welcoming Sassy, my new now almost 10 week old Golden puppy to my home. She is a delight and a new challenge as my memory is a bit fuzzy about puppy training. More adventures to relay in forth coming newsletters.
Haliburton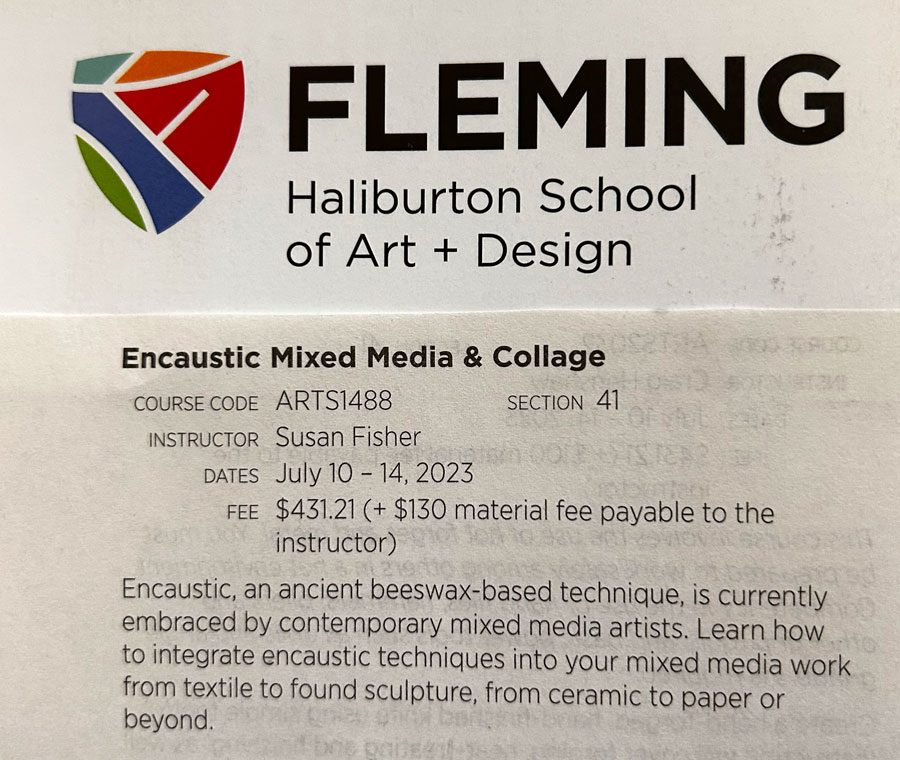 As May approaches I'm looking forward to refreshing my gardens for new herbs and tomatoes. I will be helping and advising Graham as he starts his own vegetable gardens.
My weekend and week teaching Encaustic in Haliburton is coming in July: July 8 – July 10-14. Please view the insert with information about the classes and where to sign up. There are 16 spots available and are filling up fast. Also be early about finding accommodation for whatever class you might be interested in – there's always a bit of a scramble
Enjoy the exuberance of Spring, be inspired by it's beauty to start some fresh new creative directions!