Workshops
The encaustic art technique is of growing interest to both budding and experienced artists. Whether you want to introduce encaustic into your current art genre or broaden your existing knowledge of encaustic techniques, attending a workshop with Susan will significantly enhance your encaustic skills.
Susan's Educational Qualifications:
Susan has been teaching encaustic workshops since 1999. She has a post-graduate diploma in Art Education and is a Qualified Encaustic Instructor for R&F Handmade Paints as well as Haliburton School of the Arts. In addition to her encaustic courses, Susan has taught classes in painting and sculpture in Alberta and Ontario.
Susan conducts private sessions upon request as well as workshops. (see below)
Susan's workshops fill up quickly. Be notified of upcoming dates as soon as they are scheduled. Sign up for our newsletter to receive workshop notifications or contact Susan to request a workshop.
Workshop Information
Description of Workshop Sessions
marys
2022-01-24T18:38:25+00:00
Small groups (no larger than 4 ) so everyone gets individual attention.
All encaustic materials (ie. paints and medium) are supplied.
All encaustic tools and equipment are supplied
Encaustic materials and equipment available for purchase during the workshop period.
Lunch is provided.
Slides and examples of encaustic works and discussion period introduces many inspirational ideas for the beginning encaustic painter.
What you can expect:
marys
2022-01-24T18:43:29+00:00
A solid working knowledge of the unique techniques of layering, image transfer, mixed media and texturing inherent with encaustic painting.
How to set up a safe and healthy studio for encaustics, how to work safely with encaustics.
At least 5 finished works.
You are required to bring supports adequate for encaustics such as:
marys
2022-01-24T18:38:03+00:00
wood panels or blocks (eg. birch veneer panel)
Masonite
300lb. watercolour paper, unglazed ceramic (eg. tiles or even sculpture pieces)
Plus materials for collage work:
graphite drawings, laser jet copied photo images
rice paper, handmade paper, organic lightweight textiles (eg. silk, cotton or lace)
dried lightweight leaves or other organic materials
NO SUPPORT TO BE LARGER THAN 9" x 10" PLEASE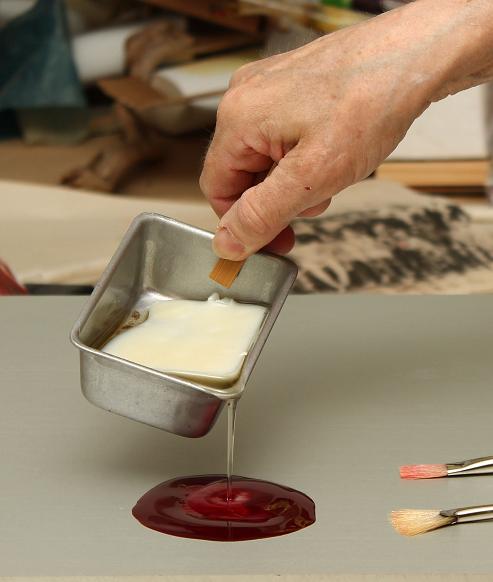 Upcoming Workshops
Fleming College – Haliburton Campus – Susan's Faculty Page
Registration opens March 1, 2022
Private Workshops
An in-depth, individualized 1 day workshop is available by arrangement for those who cannot fit a longer session into their schedule. Susan can focus on specific areas of interest to you, technically assist you with your encaustic project and enable you to begin to integrate encaustic methods into your own studio.
Private Workshops: 9:30 am – 4 pm  ~  $350 per day ~ Lunch provided
For private workshops in excess of 100km outside of Peterborough & Kawarthas, please request a quote.
Although these can be used as an introduction to encaustic painting, please note that you will receive a highly concentrated amount of new information in a short period of time.
All workshop prices include the encaustic materials you will be using during the workshop as well as the use of encaustic tools.  When you sign up for a workshop, we will send a list of suggested painting surfaces for you to use as well as other materials you can "play" with.
Do you wish to discuss possible dates or other details before booking a private workshop? Click here to contact Susan.
Past Participants
Here are a few reviews from past class participants.
I am loving this medium so much! Thank you Susan for introducing it to me…it has changed my artistic life forever.
Thank you for a wonderful week! You have taught us a complex technique with great enthusiasm and joy!
Thank you!! And thank you again!! I'm back in my groove -& that's why I came back for these two weeks.
Excellent class! I will be considering a new medium. Thank you Susan.
Merci une semaine tres stimulant [sic].
Thanks for the inspiration Susan. I think I'm a convert!
Thanks for all the great teachings. You are the BEST!
Many thanks for your inspiration and knowledge.
Thanks again for filling me with at least a hundred ideas to pursue.