About Susan Fisher
Thank you for taking the time to visit my website and learn more about me and my background as an artist.   Websites offer an opportunity to reach out to visitors around the globe, but they can often feel impersonal, so this is from my heart reaching out to you, the visitor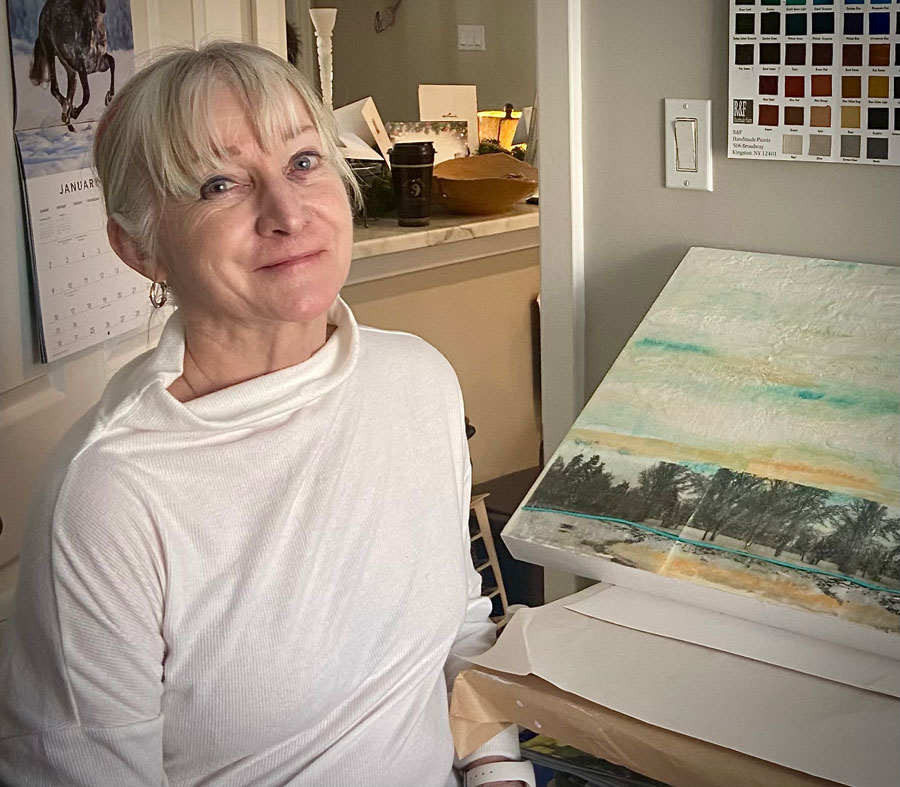 Art is anything but impersonal.  We each connect with art in our own unique way, drawing different inspirations and insights from the works that appeal to us.  Art has always been my passion and has covered a wide range of genres through the years. I now exclusively work in Beeswax Encaustic with mixed media. I  take great pleasure in discovering why patrons of my art connect with a certain piece and watching how my students engage with the encaustic art experience in a workshop setting.
Originally from Montreal, I graduated from Concordia University with an Honours BFA majoring in Graphics/Sculpture plus a post-graduate diploma in Art Education. I achieved my Master's Degree in Art History and Native Art History from Trent University, researching Athapaskan artistic expression in quill working as my thesis topic.
My artistic career started in the photographic laboratories of the Canadian National Railway in Montreal as a printer. The 1970's began my decade in the Canadian North. I was first in the Ungava Bay district of Nouveau Quebec establishing a cottage craft industry for Inuit carvers, followed by a period in Northern Alberta teaching ESL, French and Adult Education art classes.
I have been working in the Encaustic art medium since the late 1990's, I love it's luminosity, textures and versatility. Every new piece is an adventure. I am a recognized Canadian instructor for R & F Handmade Paints, a New York company dedicated to the development and production of high quality, stable encaustic materials as well as promoting safe methods of encaustic painting through carefully structured workshops. I have been teaching these safe methods through the Haliburton Summer School of the Arts for the past 13 years, in my own studio and in various gallery venues such as Meta4 Gallery.
I create and sell original works of art out of my Fluid Studio and Gallery in Peterborough, ON Canada and have exhibited in major galleries throughout Canada and the USA. One unforgettable moment was the honour of being one of 10 Canadian artists invited to show in the annual group exhibit in Sagamihara Japan.
Once I began teaching Encaustic, Peter, my late husband, created specially designed hot palettes for my classes. He's now sadly in another realm but I am eternally grateful that he taught me how to make them. They are available for purchase so please contact me if you're interested.
Apart from my artistic activities, I share my life with Satchmo, my Springer Spaniel and Chispa, my gentle mare. Gardening brings joy and inspiration. I especially love tending to my herb garden, uplifted by the glorious aromas. The beauty of the Kawarthas, the changing scenery of the seasons are a constant source of ideas and inspiration as you will notice in many of my pieces.
Thank you for spending time at my site.  I welcome comments and questions.